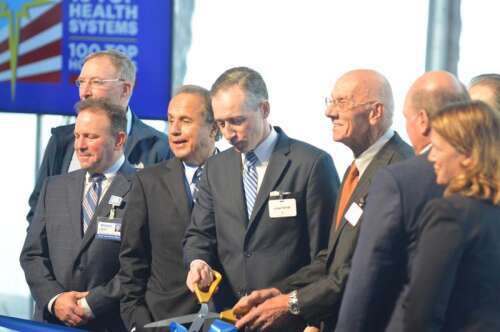 St. Luke's Hosts Ribbon Cutting at New Carbon Campus – Times News Online
Posted on October 30, 2021 10:13 PM
The St. Luke's University Health Network cut the ribbon for a new $ 80 million hospital in Franklin Township on Saturday.
St. Luke's Carbon Campus will officially open its doors to the public on November 20.
Officials on Saturday celebrated the unveiling of the region's largest healthcare facility, which they say will provide healthcare specialists and procedures that have never been offered before in Carbon County.
"It is certainly an impressive structure with a spectacular facade, but it is even more impressive and exciting to see what is inside these walls," said Judge Steven Serfass, chairman of the council of administration of St. Luke's Carbon Campus.
The 3-story, 155,000-square-foot hospital is located on Harrity Road, just off the Mahoning Valley interchange of the Pennsylvania Turnpike.
The hospital's inpatient unit has 80 beds. The emergency department will have 17 when the hospital opens, with expansion plans.
More than 30 specialists will be based full time at the hospital, including an oncologist and a vascular surgeon.
Its health center and cafeteria will be open to the public, and St. Luke plans to build walking trails around the property.
"We hope the community comes to enjoy the campus and doesn't wait until they get sick to see how beautiful this place is," said John Nespoli, president of St. Luke's Carbon Campus.
Four years ago, the health network acquired Blue Mountain Health Network and the two Carbon County hospitals.
Serfass said St. Luke's provided a state-of-the-art facility that Blue Mountain lacked, and has the ability to attract medical talent that Blue Mountain could not.
"St Luke's vision and shared dedication to providing the best healthcare services easily accessible to the community has made him the perfect partner for Blue Mountain," said Serfass.
The St. Luke University Health Network held a ribbon cut for its Carbon Campus on Saturday morning. NEWS FROM CHRIS REBER / TIMES