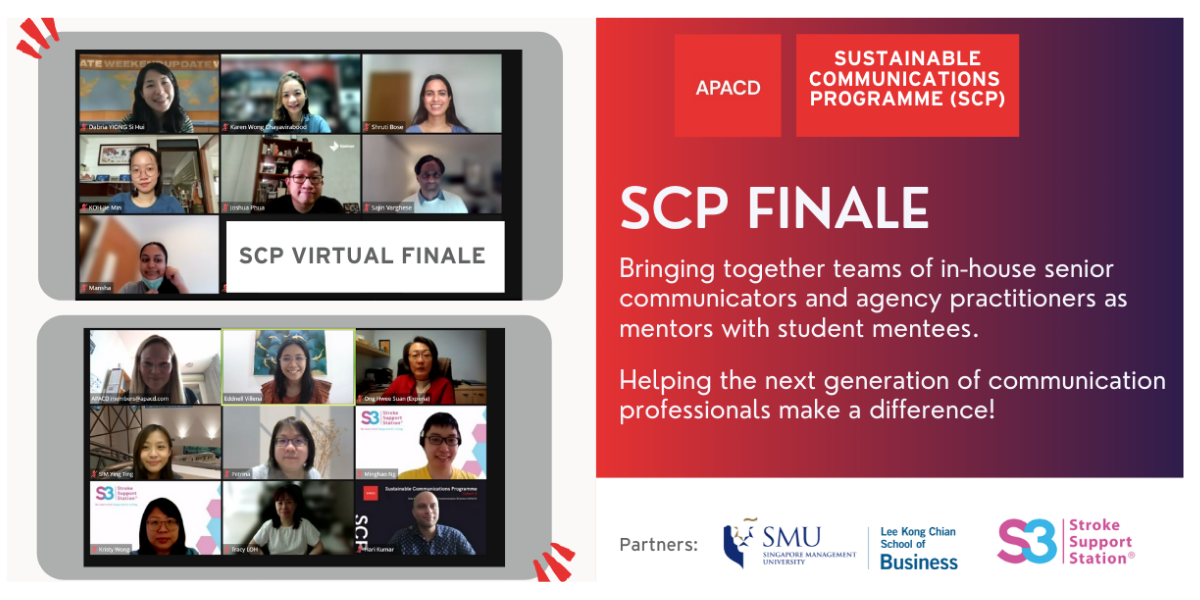 SMU students work with professional mentors to raise awareness of stroke and stroke recovery through the Sustainable Communications Program
The third cohort of Sustainable communication program (SCP) pitched their PR and marketing ideas to S3, a charity focused on stroke awareness and recovery. After the mid-term check last October, the students of Singapore Management University (SMU) presented their final presentations in January 2022.
In its second year, the program places teams of students from the Lee Kong Chian School of Business (LKCSB) under the tutelage of experienced communication professionals as they design communication projects for social enterprises and charities. local.
The incidence and burden of stroke increases with the aging of the population. At the same time, COVID-19 has changed the operation of the S3 stroke assistance station, replacing ground operations with virtual services. S3 is also expanding the use of social media to market its programs and services. In a two-hour presentation, students and mentors collaborated on a marketing and public relations plan to help S3 find new ways to reach stroke survivors and their communities.
Two teams of students and mentors presented plans. Team 1 consisted of Dabria Yiong (3rd year), Sim Ying-Ting (2nd year) and Koh Jie Min (3rd year). Team 2 included Mancha Bakchi (Year 1), and Ridhima Agarwal (3rd year).
Karen Wang, Team 1 Mentor, Director of Regional Affairs at Abbott, said, "Team 1's communications strategy focused on the mental health of stroke survivors and caregivers. The effort was not designed to disrupt current S3 practices, but to support the central and often overlooked role of caregivers in the management and recovery of a stroke survivor." The students also drew on key insights from caregivers and came up with ideas that the client could incorporate into existing initiatives.
"Team 1's proposed structure explains well how we can work with the community, especially with new media channels that provide warmer and more personal channels of communication with our audience," adds Kristy WangMarketing Communications Manager, Stroke Support Station (S3).
Team 2 first conducted a survey to determine the needs of their target audience. From there, the team developed a three-pronged strategy involving both media and field engagement. Their proposed media initiative combined Instagram stories and quizzes to promote understanding and empathy for the experience of stroke survivors. Direct personal communication included Facebook Live, outreach to young family members of stroke survivors through local universities, and a Caregiver Day for caregivers to network, support and learn.
Shruti Bose, Team 2 Mentor, Acting Head of Communications at Roche Diagnostics Asia Pacific, said, "The Team 2 survey helped the team define who they wanted to reach: young family members. stroke survivors, and how. Although there were challenges along the way and the conditions weren't ideal, Team 2 came up with some smart and creative solutions to address them, like kicking off their project with a survey that helped them to determine which audience to address.
"This experience gives students an edge in the professional world. This helps them develop the personal qualities that will make them effective in the workplace, such as tenacity and the ability to develop relationships with people they will only know virtually," explains John Morganmember of the SCP Streeting Committee and directs the general affairs of RGE.
Marla Arnall, SCP Steering Committee Leader, Head of Communications, Amazon Asia Pacific, said, "On behalf of the Steering Committee, I would like to thank Professor Tracy Loh of SMU, Kelvin Goh of SMU Communications Management Society, the agencies of communication Wachsman, Edelman, Golin, and Redhill, as well as the mentors who have dedicated their time to this initiative. Finally, I want to thank the wonderful team at S3 for joining Cohort 3 as a charity partner.