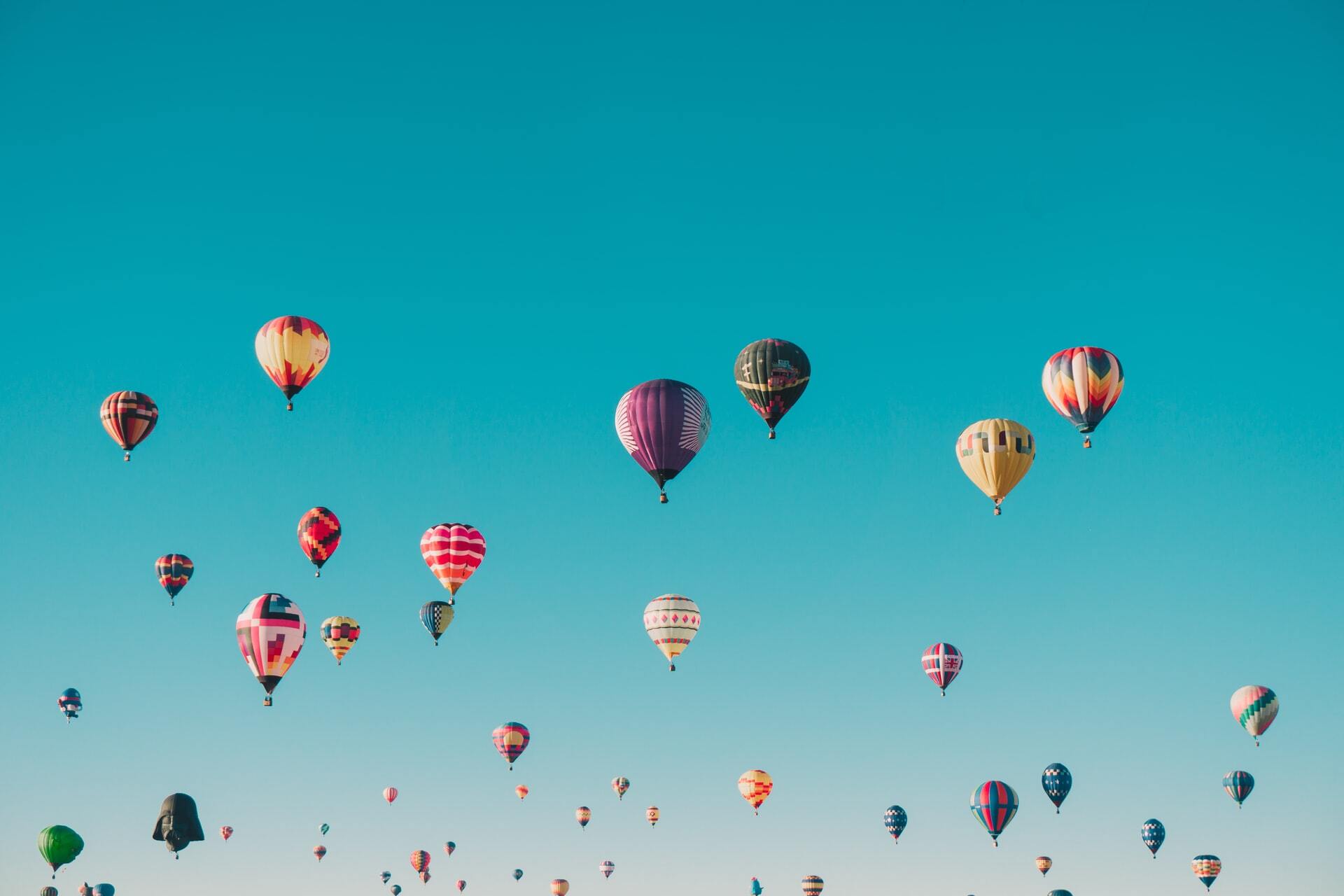 Skyword's Andrew Wheeler Shares Secrets To Scale Your Marketing Operations In 2021 And Beyond
Following last year's all-virtual event, the Content Marketing Institute returned in style with Content Marketing World 2021. The event hosted over 100 sessions featuring some of content marketing's brightest minds, chatting the latest trends in the sector.
Skyword CEO Andrew Wheeler was among the outstanding cast of panelists. . For those who can't attend this year's CMWorld session: we've got you covered.
Here are four key ideas from Andrew's presentation that will help you plan for a bright future for your brand marketing.
Build a content ecosystem
The content marketing landscape is changing rapidly, more than ever before. Demand for digital content across the organization has exploded, thanks to COVID-19, and content teams are being challenged to keep pace. On top of that, digital advertising is dying, placing more emphasis on owned content. Additionally, people are flooding the freelance market, with over 2 million workers joining the independent economy in 2020 alone.
How can brands keep up with all these changes? Andrew believes a transformation is needed in marketing. In order to truly evolve content operations, everything must be rethought, from the operational structure of the marketing team to the freelance relationship. And the first step on that journey is to take a new approach to planning and organizing content.
Skyword's framework for organizing content is known as the Content Ecosystem Model. The goal of this model is to create a strategic network of assets that strengthen market dynamics and support the large-scale buying journey.
As part of this template, you will need to identify the audience-centric thematic pillars that you want to own as a brand. Then build your authority on those topics with content through the feeds that are linked to your pillars. By covering all aspects of your thematic pillars (and the sub-themes that support them), you can create a strong, focused, goal-oriented, and authoritative content ecosystem.
This approach is all about depth. Rather than creating one-time pieces of content or many assets across a range of topics, you can explore specific areas. This will demonstrate your brand's expertise and create a unified path for your customers through the brand's touchpoints.
Transform your operational structure
Building a stable and supportive content ecosystem is only one piece of this transformative puzzle. The traditional hierarchical structure of the marketing organization needs updating to keep pace with the modern world. If you want to evolve your marketing operations, you will need to take a close look at how you structure your people.
Typically, ideation and content creation is dispersed across business units. For example, the marketing team may receive requests from multiple lines of business or from different product teams at the same time to create new assets. Every department has to compete for those marketing resources, including budget, and sometimes they can rely on outside agencies to step in here and there to do all the work.
Unfortunately, without a singular framework guiding everything, this approach usually results in a patchwork of creative models and a disparity in quality. To avoid this scenario, many big brands are turning to a human structure that puts a content team at the center of the creation.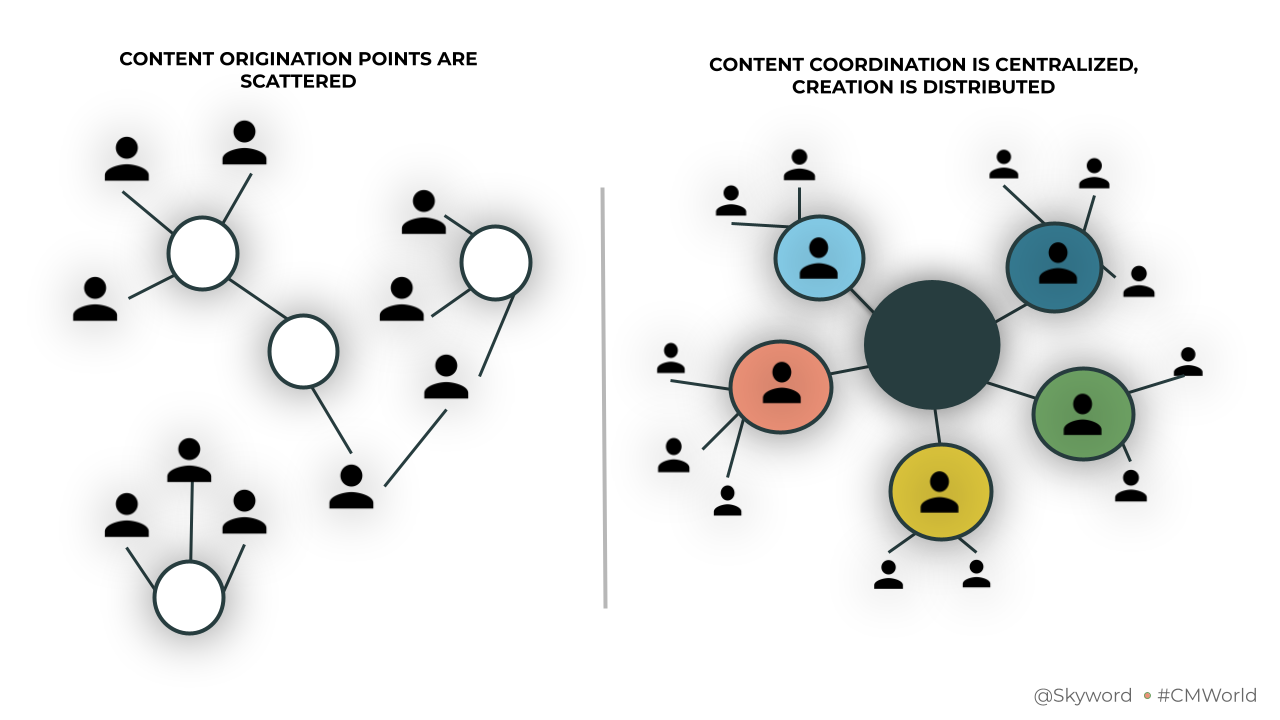 This central content team has the big picture and is able to coordinate individuals or small teams to deliver content across the organization without losing sight of that vision. In this model, content planning, coordination, and measurement are all centralized, but content is activated by different business teams.
Adopt a new style of work
Placing your content team at the center of all content creation and coordination may seem like hiring a bunch of new people, but it isn't. Andrew suggests instead turning to what he calls a "mixed" team model.
Relying solely on creating all content in-house just isn't scalable, and outsourcing everything isn't either. A mixed team, however, has the flexibility to scale up or down as needed while controlling the brand message.
As mentioned earlier, the freelance market is growing faster than ever, which means there is a lot of great talent out there to help brands create whatever they need. And according to Skyword research from 2021, 73% of brands that currently use independent designers plan to rely more on them over the next two years. This is the real node of blended teaming: it relies on freelancers as an extension of marketing operations.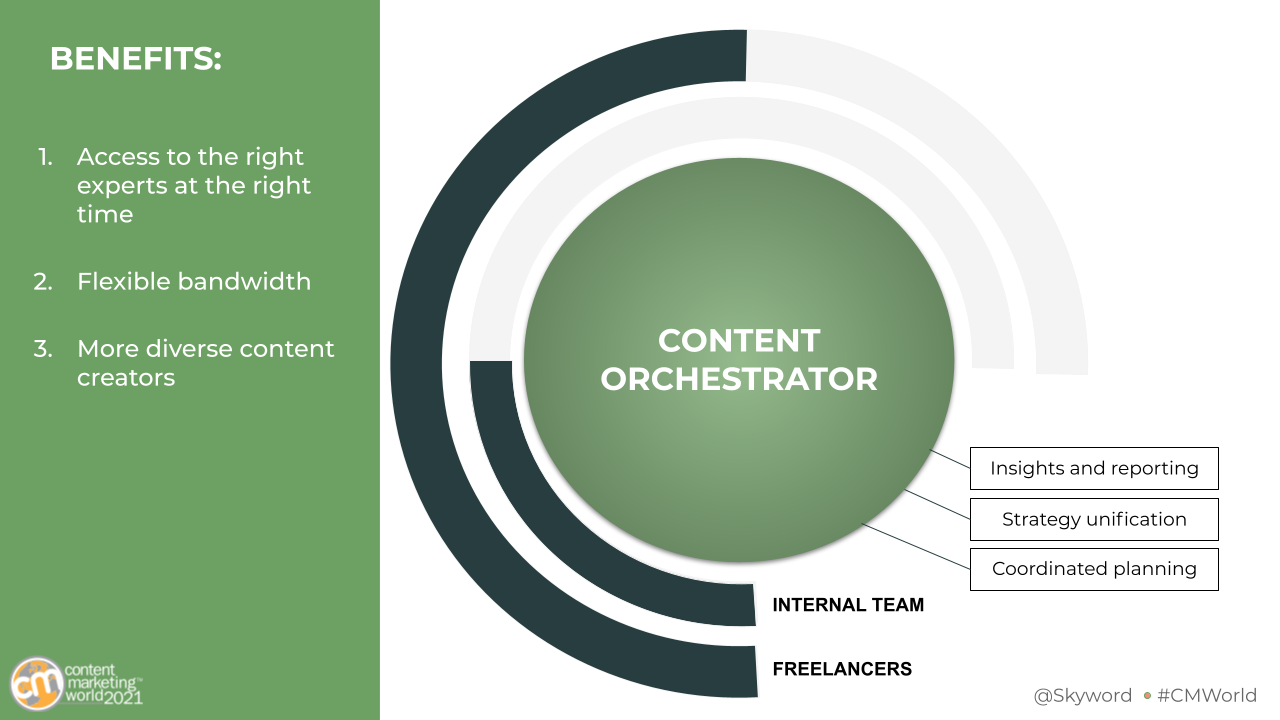 In this new style of working, independent creators liaise with internal brand quality managers, who can ensure all content is consistent in terms of quality, style and message. It also allows the organization to identify exactly who is the right one for certain jobs – with a larger freelance network, you can access a greater variety of experts and more diverse content creators, and you can increase your bandwidth without adding headcount.
Reinvent the freelance relationship
That said, the shift to a mixed workforce will require brands to evolve their freelance relationships. In the past, marketing didn't reach independent designers until their plates were completely full and overflowing, and the idea was that independents were there to fill in the gaps and do the work that no one else did. 'had time to do.
At Skyword, we believe in building long term partnerships with freelancers. These partnerships must be symbiotic. Instead of keeping freelancers at bay, we strive to bridge the knowledge gap between branding and messaging and outside subject matter expertise. We identify the strengths of our internal team members and freelancers, and when we need a job to do, we select the person with the right strengths to tackle it.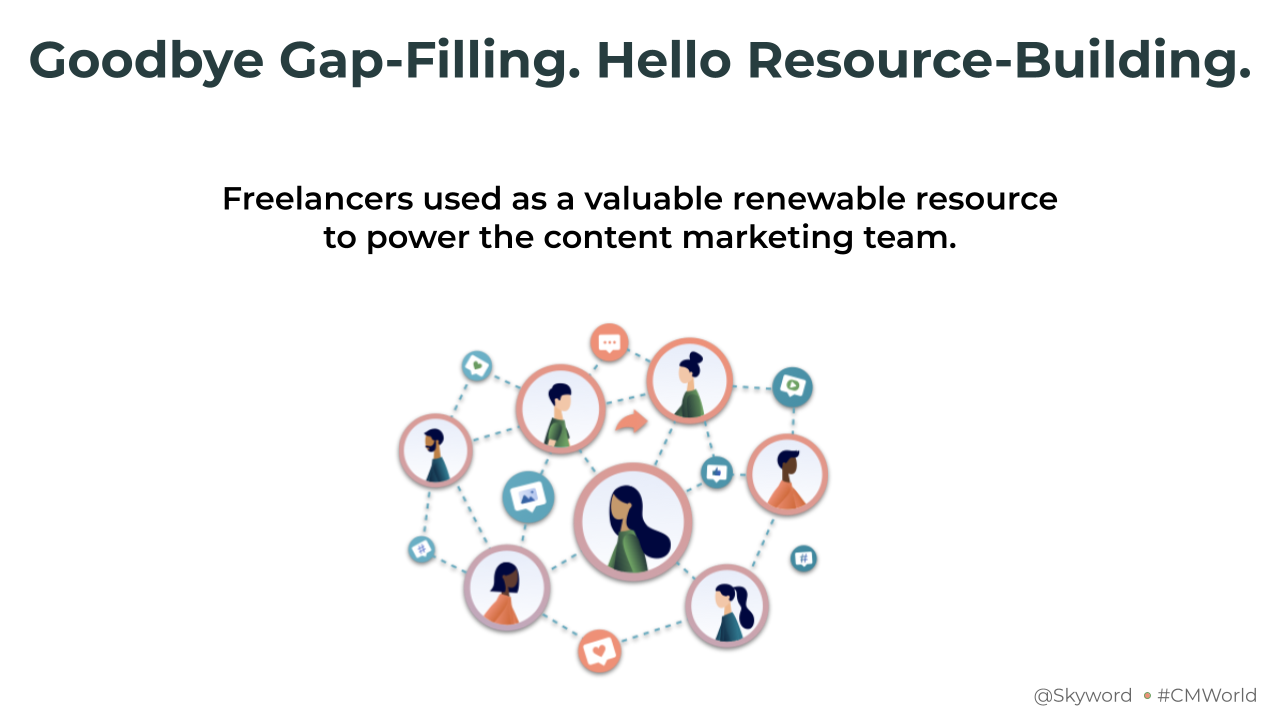 This approach expands your capabilities and turns your freelancers into a valuable renewable resource for content creation. Like anything else, however, it takes work to manage your freelance network in this way, and you will need a dedicated person or team to connect with existing freelancers and create a solid onboarding plan for you. the new ones.
Andrew's session at this year's CMWorld was revealing to say the least. Weaving together several big ideas that work for brands, he explained how the content marketing landscape is and will continue to evolve, especially as the continuing effects of the pandemic impact businesses across all industries. To keep pace, marketing operations must change, and this key information can play a major role in helping you do just that.
Stay connected on our blog, The content standard, for more learnings to come from CMWorld 2021 – we have more coverage going, and we're excited to share all the best lessons from industry leaders! And if you want to regularly read content marketing news direct from the CEO of Skyword, sign up for Andrew's monthly newsletter, Content and context.
Featured Image Attribution: Photo by ian dooley on Unsplash.