It's dry. Who is most likely to rain this weekend?
[ad_1]
Friday was a beautiful summer day for most of Minnesota and western Wisconsin.
We are still looking for rain, however, with about 75% of Minnesota currently experiencing drought conditions.
Chance of rain on weekends
Northwestern Minnesota could see a few showers and an isolated thunderstorm Friday night, with this chance of rain spreading into north-central Minnesota overnight. A few scattered showers and thunderstorms are also possible Friday night in extreme southeastern Minnesota.
West central and northern Minnesota could see a few showers at times on Saturday, with an isolated thunderstorm also possible. The best chance of torrential downpours on Saturday will be in southeast Minnesota and parts of Wisconsin as an area of ​​low pressure projects moisture into those areas. The National Oceanic and Atmospheric Administration (NAM) North American Mesoscale (NAM) forecast model shows the potential rainfall pattern on Saturday and Saturday night:
The Twin Cities metro area will be near the northern edge of rain on Saturday and Saturday evening, with some occasional showers and thunderstorms expected.
Scattered showers and thunderstorms are possible throughout Minnesota and western Wisconsin on Sunday.
You can hear updated weather information for Minnesota and Western Wisconsin on the Minnesota Public Radio Network, and you can see updated weather information on the MPR News Live Weather Blog.
Temperature trends
Saturday's highs will mostly be in the upper 70s and lower 80s: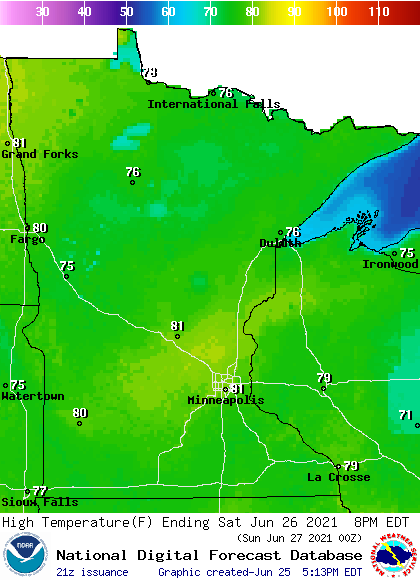 Saturday's dew points will be in the comfortable 50s in many areas, with sticky 60s in the southeast:
The high temperatures on Sunday will again be mainly in the upper 70s and lower than 80:
Lower 70s are possible in northeast Minnesota.
Sunday dew points will be in the 50s to around 60s:
Return to temperatures: Highs for the Twin Cities metropolitan area are expected to be in the lower 80s on Monday and Tuesday, followed by the mid-80s on Wednesday. Our highs drop to around 80 Thursday and Friday next week.
Temperatures may increase slightly for July 4 and the start of the following week. The NWS Climate Prediction Center shows a trend for above normal temperatures in Minnesota and western Wisconsin from July 3-9:
Programming instructions
You can hear my weather updates live on MPR News at 7:35 am, 9:35 am and 4:39 pm every Saturday and Sunday.
You make MPR News possible. Individual donations are the source of the clarity of our reporters' coverage across the state, the stories that connect us, and the conversations that offer insight. Help us ensure that MPR remains a resource that brings people together in Minnesota.
Make a donation today. A donation of $ 17 makes a difference.
[ad_2]