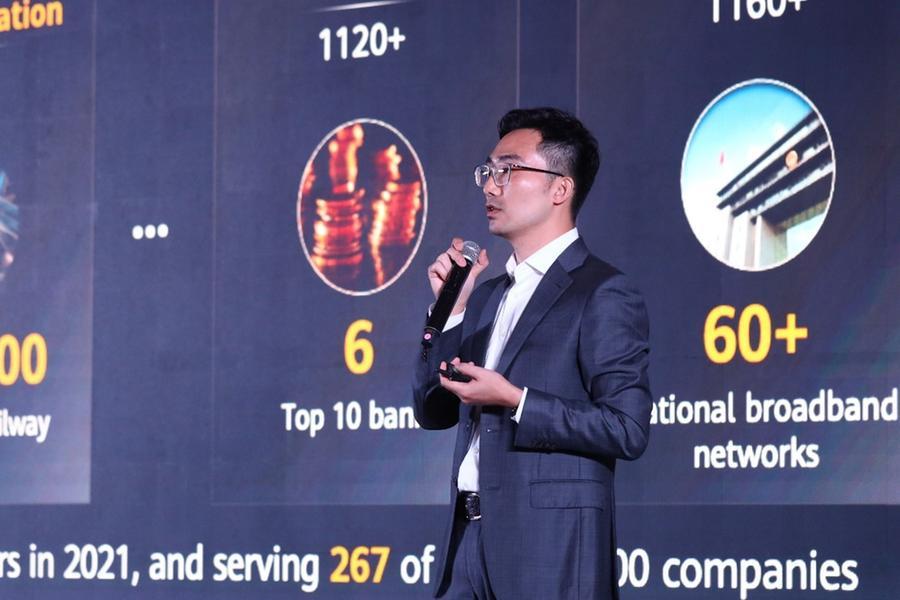 Huawei Intelligent Cloud-Network, leader in digital innovation
Middle East: Huawei unveiled the enhanced capabilities of its intelligent cloud networking solution at the summit titled "Intelligent Cloud Networking, Leading Digital Innovation", held during HUAWEI CONNECT 2022 in Bangkok. The features cover three major scenarios – CloudFabric, CloudWAN, and CloudCampus – and were created with the goal of meeting changing customer needs. Huawei also released its Wireless Smart Grid Architecture White Paper to further support companies in digital innovation.
As digital transformation advances, enterprise services place new demands on data communication networks. First, a huge number of IoT connections require ultra-broadband and ubiquitous connectivity. Second, enterprise branch services are gradually migrating to the cloud, requiring networks to provide flexible deployment and rapid cloudification capabilities. Third, new services need to be deployed at scale, and services require frequent adjustments, requiring agile, secure, and efficient networks. Finally, video conferencing is becoming mainstream, which means networks must provide deterministic experience assurance.
Sun Liang, vice president of Huawei's data communication product line, noted that Huawei Datacom has developed the intelligent cloud network solution through continuous innovation to overcome previous challenges. This solution offers key features such as an ultimate access experience, ultra-fast cloud access by branch offices, a deterministic experience, and efficient and simplified deployment. Currently, the Intelligent Cloud-Network solution has been widely used in industries such as education, retail, government and finance, facilitating digital transformation for customers. For example, in the education sector, the completely wireless Wi-Fi network solution provides the ultimate network access experience; in the retail sector, the ultra-fast SD-WAN cloud access solution makes it possible to open a store in one day; in the government sector, Huawei's network slicing technology enables converged network transport and 100% assurance of business-critical services; in the financial industry, the simplified cross-domain multi-cloud service deployment solution enables services to be deployed in minutes.
At the conference, Huawei also unveiled a number of new data communication products, such as the industry's first AirEngine 8771-X1T Wi-Fi 7 AP, the CloudEngine S16700 400G-enabled next-generation campus core switch, and the 4-in-1 Universal Switch -Service NetEngine 8000 M4 Smart Router.
Additionally, Huawei released its Wireless Smart Grid Architecture White Paper. Liu Jianning, president of Huawei's global enterprise network solutions and marketing department, said one of the most significant changes to campus networks is being completely wireless. Future adoption of Wi-Fi 6 and Wi-Fi 7 places new demands on network bandwidth, architecture, and operation and maintenance. To meet these new requirements, Huawei offers the next generation campus network architecture – Wireless Intelligent Network Architecture. This architecture has seven unique features: fully wireless, hyperconverged, ultra-wideband, simplified, low-carbon, secure, and intelligent.
During the conference, customers from various industries shared how they used Huawei's intelligent cloud networking solution in their business practices. Agus Ariyanto, Vice President Network of Biznet, delivered a keynote titled "Biznet is Building a Future-Oriented Intelligent WAN". He said that "Built on a flat metro network, Huawei helps Biznet consolidate its leading role in the industry. Together with Huawei, we will further explore emerging technologies and business innovation based on IPE." Billy Wong, Chief Technology Officer of Nova Credit Limited, delivered a keynote titled "Financial Cloud-Network, Promoting FinTech Innovation". He noted that "in Nova Credit's data centers, we have deployed Huawei's CloudFabric data center network solution. At the physical layer, Huawei CloudEngine data center switches create high-performance 40GE/100GE interconnects; On the management layer, the solution provides full lifecycle automation. capabilities and an easy SDN experience. »
For more information on Huawei's intelligent cloud network solution, please visit https://e.huawei.com/en/solutions/enterprise-networks/intelligent-ip-networks.
-Ends-
About Huawei Connect
As a key event in the global ICT calendar, HUAWEI CONNECT 2022 will bring together industry visionaries, business leaders, technical experts, pioneering companies, eco-partners, application providers and developers to lead the development of the industry and build an open and strong ecosystem. HUAWEI CONNECT 2022 is held in Bangkok, Dubai, Paris and Shenzhen. Join us there to liberate digital. For more information, visit https://www.huawei.com/en/events/huaweiconnect.
About Huawei
Founded in 1987, Huawei is a leading global provider of information and communication technology (ICT) infrastructure and smart devices. We have over 195000 employees, and we operate in more than 170 countries and regions, serving more than three billion people around the world.
Our vision and mission is to bring digital to every person, home and organization for a fully connected and intelligent world. To this end, we will foster ubiquitous connectivity and promote equal access to networks; bringing the cloud and artificial intelligence to every corner of the world to deliver superior computing power where you need it, when you need it; build digital platforms to help all industries and organizations become more agile, efficient and dynamic; redefine the user experience with AI, making it more personalized for people in all aspects of their lives, whether at home, in the office or on the go.
For more information, visit Huawei online at www.huawei.com or follow us on:
http://www.linkedin.com/company/Huawei
http://www.twitter.com/Huawei
http://www.facebook.com/Huawei
http://www.youtube.com/Huawei