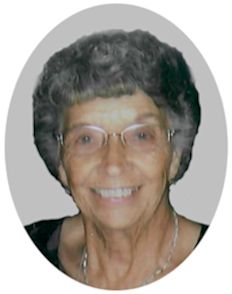 Geraldine M. "Jerry" Wintz – Radio WRBI
Geraldine M. Wintz, 95, of Batesville, died Thursday, May 5, 2022 at St. Andrew's Health Campus. Born May 11, 1927 in Batesville, she is the daughter of Loretta (née: Meyer) and Gilbert Goyert. She married Robert Wintz on January 11, 1958 at St. Louis Church and he predeceased her on June 30, 2017.
She was an executive secretary at Hillenbrand Industries for 10 years, leaving that position to become a homemaker and raise her family. In 1973 she returned to Hillenbrand's, working in the doll factory office for 16 years, retiring in 1989.
Jerry was a lifelong fan of Frank Sinatra, attending many of his performances and even getting his autograph. She also enjoyed crocheting making afghans, Barbie clothes, stuffed animals and baby blankets for the grandchildren. She and Bob loved visiting state parks, taking multiple trips each year, and watching Reds games. They also loved attending the grandchildren's activities and sporting events. In recent years, Jerry has become a Game Show Network fan, with Family Feud being his favorite.
She is survived by her daughter Joanne (Bruce) Dickman; sons Jim (Vicky) Wintz, Sam (Denise) Wintz, all of Batesville; 12 grandchildren and 10 great-grandchildren. In addition to her husband and parents, she is also predeceased by her son Steve Wintz; granddaughter Laura Dickman; grandson Jason Wintz and sisters Marian Goyert and Rosalie Freese.
Visitation will be held Wednesday, May 11 from 9 to 11 a.m. at Weigel Funeral Home. Funeral services will follow at 11:30 a.m. at St. Louis Church with the Reverend Shaun Whittington officiating and interment will be in the churchyard. The family requests memorials from the Batesville Parks Department or the Margaret Mary Health Foundation Hospice. For online condolences, go to www.weigelfh.com.