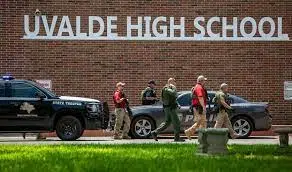 First Louisiana School Safety Summit today in Baton Rouge
State education officials and the Louisiana State Police will host the state's first-ever School Safety Summit in Baton Rouge today. Superintendent of Education Dr. Cade Brumley says this is an important event on a very serious subject: keeping children safe in school. Brumley says, "There is nothing more important. This is our number one responsibility. Obviously, with the tragedy of Uvalde, it brings to the fore for all of us.
The summit will bring together school system leaders from across the state…as well as state and local law enforcement, government agencies, mental health providers and more to discuss best practices in school safety and emergency management. Brumley says that in more than 70% of incidents of school violence, a student knew something was wrong but didn't tell anyone.
"We need to create an environment where if children see something…something is wrong or they hear something…they feel comfortable speaking up, expressing themselves and reporting it. ."
Brumley says we need to discuss how best to control who comes in during school hours…
"… harden perimeters and have access control, so that we have single entry points for our schools where people enter through one door."
The School Safety Summit is taking place today at the Baton Rouge River Center.