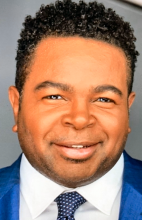 ABC Audio puts Derricke Dennis as staff correspondent
ABC Audio puts Derricke Dennis as staff correspondent
ABC Audio has promoted Derricke Dennis to Staff Correspondent. Derricke first joined the ABC newsroom in the fall of 2019 working night shifts. It didn't take long for Derricke to become a staple on ABC News Radio, working a full schedule over the past two years as a freelance writer and anchoring our flagship I-NET show with a distinctive style – both deep but relaxed, in-depth but conversational.
Dennis brings a wealth of journalism background to his new role. Prior to ABC, he anchored a weekday global newscast on I-24 News. He was also a host on the Law & Crime Network, and before that he worked as a reporter and presenter at WCBS-TV, News 12 New Jersey, and WDIV-TV in Detroit. He's a talented storyteller who was instrumental in our coverage of the pandemic, delivering numerous headlines and – just as skillfully – documenting in a lengthy article how strange it was to return to a New York gym. Jersey for the first time after lockdown.
Originally from New Jersey, Derricke grew up in Atlantic City and graduated from the John H. Johnson School of Communications at Howard University in Washington, DC.
In this new role, Derricke will report for all ABC Audio platforms, he will continue to host TV news – as well as coverage of breaking news and special events – and he will be instrumental in our efforts to create new ones. products and reach new audiences. .