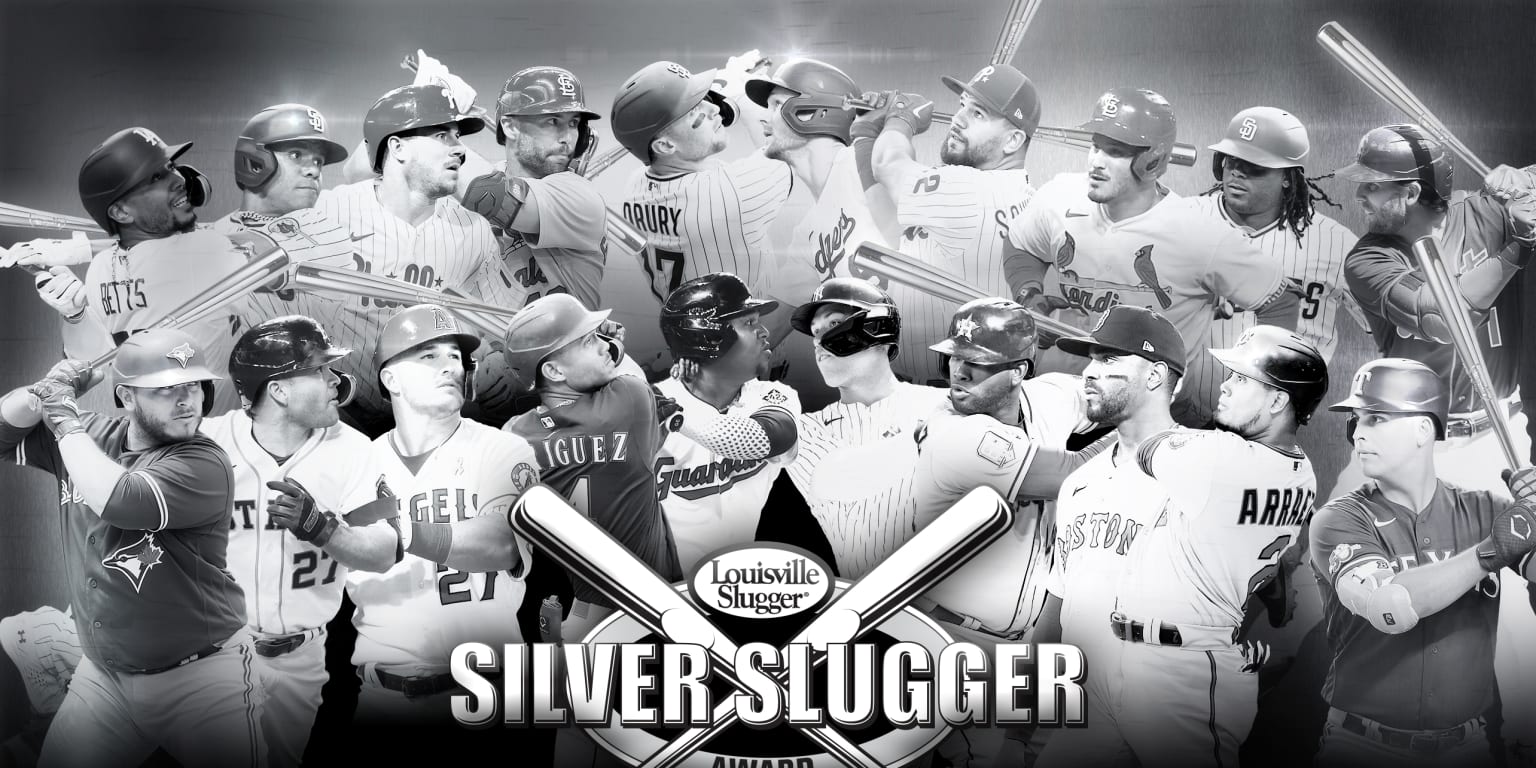 2022 Silver Slugger Award Winners
Major League Baseball honored the top hitters of the 2022 season Thursday night when the Louisville Silver Slugger Award winners were announced on MLB Network.
The Silver Slugger Awards, which are voted on by MLB managers and coaches, are given to the best offensive player in each position in each league. This includes three outfielders (regardless of specific position) in each league and, for the first time, a utility player in each league.
This year's group of recipients included 10 first-time winners. The Padres led all clubs with three winners — all three came to San Diego at the trade deadline — while the Cardinals, Dodgers and Phillies each had two on the National League side. As for the American League, nine teams were represented among the 10 recipients, with the Astros being the only AL team with multiple winners.
Here are the 2022 Silver Slugger Award winners:
AL winner: Nathaniel Lowe, Rangers (first win)
Lowe had a stellar year for Texas, batting .302/.358/.492 with 27 home runs and 76 RBIs. The 26-year-old set career highs in home runs, RBIs, batting average, OBP, slugging percentage, OPS+ (141) and total bases (292).
NL winner: Paul Goldschmidt, Cardinals (fifth win)
Goldschmidt, who is also a finalist for the NL MVP Award and won the Hank Aaron Award as the best offensive performer on the senior circuit, won his fifth career Silver Slugger – but his first as a Cardinal. His previous four (2013, '15, '17 and '18) all came as a member of the D-backs. As for this season, Goldschmidt hit .317 with 35 homers and 115 RBIs, while leading the NL in slugging percentage (.578), OPS (.981) and OPS+ (180).
AL winner: Jose Altuve, Astros (sixth win)
Altuve rediscovered his Silver Slugger form in 2022, earning his first honor since winning five consecutive Silver Slugger Awards from 2014 to 2018. The Astros second baseman hit .300 with 28 homers and a .921 OPS, while racking up 18 stolen bases and 103 runs scored.
NL winner: Jeff McNeil, Mets (first win)
McNeil led all players with a .326 average this season, becoming the first Mets player to win an NL batting title since Jose Reyes in 2011 – and the only player in franchise history to lead the set of Majors. McNeil also had 39 doubles this season, tied with Altuve for the most by any player who played at least 100 games at second base.
AL winner: Xander Bogaerts, Red Sox (fifth win)
Bogaerts won his second straight Silver Slugger — and fifth overall — after cutting .307/.377/.456 this season. His .307 average and .377 on-base percentage each led all qualified shortstops.
NL winner: Trea Turner, Dodgers (first win)
Turner enters the free agent market as the Silver Slugger's first winner after racking up 21 homers, 100 RBIs and 27 stolen bases this season. He was the only shortstop with at least 20 homers and 20 stolen bases, as well as the only one to score at least 100 runs. Turner cut .298/.343/.466 (.809 OPS) in the process.
AL winner: José Ramírez, Guardians (fourth win)
Ramírez had 29 home runs and 20 stolen bases this season, making him the only third baseman to turn in a 20-20 season. In fact, he's the only third baseman to accomplish that feat in the past seven seasons — and he's done it four times in that span (2018, 19, 21 and 22). Ramírez also led all AL players, regardless of position, with 44 doubles.
NL winner: Nolan Arenado, Cardinals (fifth win)
Arenado, who is also an NL MVP Award finalist, finished the season with 30 home runs, 103 RBIs and 42 doubles. His .533 hitting percentage was the best of any player at his position, while his 103 RBI paced any third baseman in the NL.
Aaron Judge, Yankees (third win)
No surprise here, as a judge – who is an MVP finalist and won the Hank Aaron Award in the AL – set an AL record by hitting 62 homers this season. Judge not only led the majors in homers, but he also paced all players in runs (133), RBIs (131), on-base percentage (.425), slugging percentage (.686), OPS ( 1,111), OPS+ (211), and total bases (391).
Julio Rodríguez, Mariners (first win)
Rodríguez, who is a finalist for the AL Rookie of the Year Award, hit .284 with 28 home runs, 25 stolen bases and a 147 OPS+ while leading the Mariners to their first playoff appearance since 2001. The 21-year-old became just the third rookie with at least 25 homers and 25 interceptions – and the first since Mike Trout in 2012.
Mike Trout, Angels (ninth win)
Despite being limited by injuries to just 119 games, Trout still managed to hit 40 home runs this season. That ranked second (albeit a distant second) to Judge in the AL, and it was a pace of 54 homers in 162 games. Trout also posted a .999 OPS and .630 slugging percentage, which ranked second in the AL behind Judge among players with at least 450 plate appearances.
Mookie Betts, Dodgers (fifth win)
Betts adds another Silver Slugger Award to his collection after already winning a Gold Glove Award earlier this month. The Dodgers outfielder has won five Silver Sluggers and six Gold Gloves over the past seven seasons. As for this year, Betts hit a career-high 35 homers, while hitting 40 doubles, stealing 12 bases and scoring an NL-leading 117 runs.
Kyle Schwarber, Phillies (first win)
Schwarber hit an NL-leading 46 home runs in his impressive first season in Philadelphia — but he contributed more than power. Schwarber also had a career-high 10 stolen bases (six more than any other season) and posted career highs in runs scored (100) and RBIs (94). He added 21 doubles and three trebles, for good measure.
Juan Soto, Nationals/Padres (third win)
Although Soto struggled a bit for the Padres after his midseason trade to the Nationals, he still led the Majors in walks (135) for a second consecutive season. That played a big part in his ridiculous .401 on-base percentage. Soto also finished with 27 homers, 25 doubles and an .853 OPS between the Nats and Padres combined.
AL winner: Alejandro Kirk, Blue Jays (first win)
Kirk led all catchers in batting average (.285) and on-base percentage (.372), while drawing 63 walks and striking out just 58 times. He was one of six qualified hitters – along with Soto, Alex Bregman, Luis Arraez, Steven Kwan and Yandy Díaz – with more walks than strikeouts.
NL winner: JT Realmuto, Phillies (third win)
Realmuto finished with 22 home runs and 21 stolen bases, becoming the second widest receiver in AL/NL history with a 20-20 season (Ivan Rodriguez, 1999). Realmuto have only been caught stealing once in their 22 attempts this season, while Rodriguez has been 25 of 37 in his historic campaign. Overall, Realmuto has reduced .276/.342/.478 (.820 OPS) this season and also scored 26 doubles, 84 RBIs and 75 runs scored.
AL winner: Yordan Alvarez, Astros (first win)
Alvarez, who is an AL MVP Award finalist, ranked second in the Majors in slugging percentage (.613) and OPS (1.019), behind only Judge. Alvarez also ranked third in on-base percentage (.406) and seventh in batting average (.306), while racking up 37 home runs and 97 RBIs.
NL winner: Josh Bell, Nationals/Padres (first win)
Bell slashed .301/.384/.493 (.877 OPS) in 103 games with the Nationals before calming down after his trade to the Padres. Despite only slashing .192 / .316 / .271 (.587 OPS) in 53 games with San Diego, Bell still finished the season with 17 homers, 71 RBIs and a .422 overall percentage.
AL winner: Luis Arraez, Twins (first win)
In addition to earning his first career Silver Slugger this season, Arraez also earned his first All-Star selection and won the AL batting title after hitting .316 for the Twins. Overall, he slashed .316 / .375 / .420 (.795 OPS) and spent time at first base, second base and third base, while making 38 appearances as a designated hitter and another 13 as a pincher.
NL winner: Brandon Drury, Reds/Padres (first win)
Drury started for a career-high 28 home runs in 138 games between the Reds and Padres this season. He reduced .263 / .320 / .492 (.813 OPS) with 87 RBI, 87 runs scored and 31 doubles, while making appearances at first base, second base, third base, shortstop and field right. Drury also served as a DH 26 times, five times pinch and even once pinch.